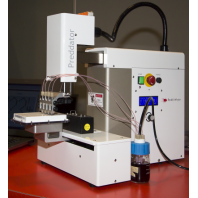 Preddator – Reagent Dispenser
The instrument can be configured to use small or large bottles (as shown) and also smaller vessels that attach to the Preddators dispensing head to reduce dead volume.
Wagner Medizin- und Pharmatechnik  is a fully trained and authorized service and sales provider for the Preddator from Redd & Whyte throughout Europe. Wagner Medizin- und Pharmatechnik`s exceptional service history makes the company a valued partner for integration companies as well as end users looking for exceptional ultralow volume dispensing. For sales and service in the US please contact our company Wagner Life Science.
Overview
Features & Benefits
Applications
Optional Rinse Station
Specifications
Videos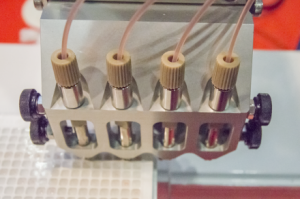 The Preddator is a low-volume, non-contact, bulk reagent dispenser that was designed and developed in close collaboration with research scientists from two major pharmaceutical companies.
Redd-and-Whyte_6781-for-website1-440×293
The instrument now offers an unparalleled set of features and benefits to users of bulk reagent dispensers.The Preddator was originally designed as part of the scientists' brief for a new reagent dispenser that could overcome 3 key issues:
Reduce tip blocking and improve assay data
Reduce the long-term costs of consumables
Reduce assay volumes, without compromising on accuracy and precision
Simple fluid pathway – Reduces dead volumes (~65ul) and tip blockages , Auto-clean function ,Reduces tip blockages, Dispensing from 10nl volumes, Miniaturises assays
Precise and consistent dispensing (0.7% CV at 500nl) – Improves assay data (independently verified)
Drop-on-drop capability – Repeatable dispensing positioning, to within 20um
Dynamic fluid range -Capably handles DMSO, proteins, crystallography, oils, matrigels, surfactants, cells and beads
Limitless patterns – Dispenses into 96-, 384-, 1536- and 3456-well microplates, evaporation wells, non-standard plates, microarrays and slides
Fast – Fills a 1536-well plate in under 10 seconds (on-the-fly)
Flexible – Suitable for a wide range of applications, handling up to 4 different reagents simultaneously
Small footprint – Ideal for today's laboratories (footprint of just 750 square cm)
Low on-going running costs – Simple low volume fluid pathway, easy to maintain and clean
Open platform – Ideal for integration into a robotic platform
Preddator – The art of precision reagent dispensing.
 From viscous reagent handling and cell dispensing to HTS.
The Preddator's unique versatility and reliable performance makes it ideal for a wide variety of applications including:
Assay development
Protein crystallography
Filling from a CSV file
PCR
Viscous reagent handling
Cell dispensing
Back filling
Dilutions
High throughput screening (HTS)
High content screening
Drop-on-drop dispensing
Stem cell research
MALDI spotting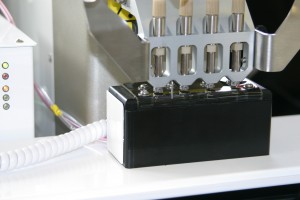 Fast cleaning of the dispensing valves. For reliable nano volume fluid dispensing
Nano volume fluid dispenser
Features include:
Rapid cleaning of the Preddator's high precision dispensing valves
Reduces the chance of clogging on the dispense the valves
The trough includes four holes for the dispensing valves to enter for cleaning
High performance air-blade drying technology
Sensors to alert the user when more rinse solution is required, or when the waste fluid capture bottle is full
The Worlds Most Flexible Reagent Dispenser
Preddator S1/S4
Plate carriage
270° access
Plate compatibility
96, 384, 1536 and 3456 as well as all plates with peripheral wells and reservoirs
Plate movement
Horizontal X – 200mm
Dispense head
Vertical Z – 50mm, Horizontal Y – 200mm
Dispensing nozzle
Pressure fed solenoid valve (1-4 valves)
Dispense precision
≤ 2% CV @ 500nl, ≤ 3.5% CV @ 100nl
Dispense accuracy
≤ 1.5% @ 100nl
Resolution
1 micron
Repeatability
20 microns
Data memory capacity
100 programs, 4000 points per program
Program system
Compact flash
Display
Integrated LCD and Windows PC
Driver/stepper motors
3-Phase
Motion control
Point-to-point (Step and Repeat)/ Continuous (On-the-Fly)
System dead volume
< 1µl, reservoir dependent (12.5µl max.)
Fluid line materials
SS, Polyethylene, PVDF, Ruby, Quartz
Dispense volume range
20nl to 200µl
External interface
USB or RS232
System footprint (max.)
338(w) x 522(d) x 450(h) mm
Reservoirs outside footprint
Free standing weight
20kg
Shipping weight
35kg
Power supply
Auto-switching 95-132V or 180-250V (270W)
Compliance
CE, RoHS and EMC
Processing time
| | Preddator | S1 | S4 |
| --- | --- | --- | --- |
| Step and Repeat | 384 well | 82s | 21s |
| | 1536 | 326s | 82s |
| On-the-fly | 384 | 37s | 10s |
| | 1536 | 112s | 28s |
The video above shows the precision in which the Preddator can perform low volume dispensing. The video shows the Preddator spotting out nine aliquots within each well of a 384 well plate and was done to highlight the incredible precision attainable by the system.
The Preddator is shown dispensing from one of four channels in step by step mode across a 384 well plate. an ideal option for cell dispensing and or multiple reagent dispencing
Liquid Handling
EDC

Redd&Whyte

Hudson Robotics

ProGroup