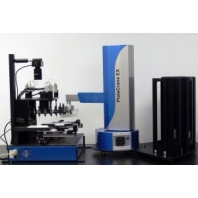 RapidPick Lite
Hudson is pleased to announce the RapidPick Lite.  The RapidPick Lite has been designed to meet the needs of labs around the world that require an automated colony picking system that is:

Easy
Economical
Environmental and
can be Expanded if needed.
The new RapidPick Lite is just as fast as our standard RapidPick Systems.  The system can pick up to 3000 colonies per hour.  If you don't require high speed picking, check out our new segmented picking module available at no charge with all E Systems.
Easy to use, easy to set up, easy to maintain, easy to grow as applications change

The software is easy to use and robust for colony picking
Re-arraying option for plate replication and cherry picking is included at no charge

Optional modules include: Halo picking, GFP picking, Colony counting, LED light panel in any color

All methods are ready to go and ready to use, no programming is required
Easily set maximum colonies to pick from segment or plate
Easily set controls wells anywhere in the destination plate, 1,2 or 3 wells or whole rows or columns.  Controls are 100% user defined
Lid removal and lid management is included at no charge.
Includes basic service kit for minor issues like pin replacements
48 hour response time for field service in most areas around the world (*ask about your location)
Includes barcode scanners for source and destination plates at no charge and all data tracking.
Includes email notification of all errors, run completions and whatever information you need from the system

The RapidPick Lite is very economical with its new low price and low cost maintenance program.  We've included more than ever at a more affordable price.
The new enclosure provides a clean and safe work environment

Options include: free standing table, HEPA filtration, UV sterilization

The RapidPick Lite is everything you want today and nothing you don't.  If you need to add something tomorrow, it's no problem with the RapidPick.  The system can be expanded anytime to include automated  media dispensing, shaking incubation, plate sealing and/or greater plate capacity.

On-board capacity for picking over 1700 colonies per run into 96 DW blocks

Options include: expansion up to 10,000 colony capacity, on-board shaking incubation, Automated media dispensing, on-board plate sealing