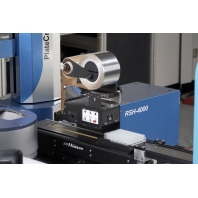 RSH-4000™ Adhesive Plate Sealer
Hudson's RSH-4000™ Adhesive Plate Sealer is the solution for high throughput automated microplate sealing. It is the only microplate sealer with an integrated, in-line plate stacker and delivery system. It offers long walkaway times, as well as direct integration to ELISA and cell-based systems. Provided with a wide selection of sealing materials, including aluminum foil, polyethylene, clear and gas-permeable, the RSH-4000 is ready made for automated workcells.
The RSH-4000 eliminates the need to pick-and-place plates in order to automatically load the sealer. It operates as an in-line component of Hudson's LabLinx track system to seal and restack plates without ever having to lift a single plate! This eliminates the need to "teach" or calibrate pick-and-place positions as well as any chance of spilling or mishandling of plates. This in-line operation also means faster plate processing: more plates per minute than any other plate sealer on the market.
The RSH-4000 is available with Hudson's StackLink plate stacker for a seamless automated solution to high-volume plate sealing needs. It can be easily integrated with a 96-well pipettor or with Hudson's micro10 in-line bulk liquid dispenser for unprecedented fill-and-seal throughput.  SoftLinx® software makes it easy to interface the RSH-4000 with other automated instruments for seamless automated control.
The RSH-4000 is ideal for sealing cell growth culture plates with gas permeable membrane seals. It has many uses in applications involving:
bacterial cultures
cell growth and storage
protein expression
compound storage
protein crystallography
-80 deg.C storage.
The RSH-4000's extensible track and stacker system provides the fastest, highest throughput system available anywhere for demanding ELISA applications, and for anywhere seals must be placed rapidly and reliably. Integrates with high-speed automated colony-pickers to quickly seal and protect cell growth culture plates . Offers direct track link-up to automated incubators for rapid, reliable sealing and incubation.
The RSH-4000 provides the modularity and flexibility needed by researchers who require their sealer to adapt to many different protocols:
Fully automated with integrated stacker and 240-plate storage capacity
Integrated with laboratory robot arms for use in small workcells
With Hudson's LabLinx track system, can pass plates through to other instruments in either direction
Accommodates most plate configurations, heights and compositions
Compatible with most chemicals (including DMSO)
Integrated sensors ensure proper positioning and pressure
RS-232 interface with simple, ASCII command set
Wide variety of sealing materials, including:

Gas permeable
Aluminum foil
Polyolefin
Polyester
Optically Clear Polyolefin
Pierceable Polyethylene

Seals withstand temperatures from -80°C to 110°C
Adjustable tape application pressure
Automatic anti-jamming logic
Programmable tape-edge overhang at front and rear of plate
Tape roll supply sensor automatically alarms system when low
The RSH-4000 serves a wide variety of laboratory applications at an extremely attractive price.