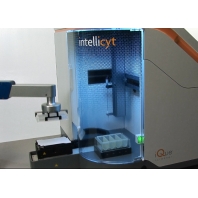 Flow Cytometry Work Cell
The Automated Flow Cytometry work cell provides scientists with an automated sample acquisition system for screening cells and beads in solution. This integrated platform combines the Intellicyt iQue™ Screener with our PlateCrane EX microplate robot arm.
Combining the PlateCrane EX with the iQue Screener provides the user with a powerful system for screening large libraries for those that act as desired in various cell and bead-based assays, on a bench top or in a hood.
Hudson's cost-effective workcell offers small footprints for mobility and flexibility, and easy-to-useSoftLinx software for data tracking and scheduling.   SoftLinx communicated directly with Intellicyt's ForeCyt™ software and automatically loads and executes stored protocols.  SoftLinx makes it easy to expand your system with the addition of other instrumentation, such as bar code scanners, liquid handlers, heating and cooling nests, and plate sealers.
Applications
Specifications
The Flow Cytometry work cell supports a wide range of cell and bead-based assays.  A few general areas of research supported by this system include:
Small Molecule Cell-Based Drug Discovery
Antibody Engineering
Phenotypic Screening
in Vitro Toxicology Screening
See the Intellicyt website for more details on specific applications.
iQue Specifications – Click here for PlateCrane Specification
SYSTEM
Dimensions (W x D x H)
99 x 63 x 66 cm (39 x 25 x 26 inches)
Weight
82 kg (180 lb)
Sampling
Manual and with autosampler. Autosampler accommodates 96- and 384-well plates with plate recall auto settings. 1536-well is a planned future capability compatible with current hardware.
Minimum Volume Requirements
Zero dead volume, 1 µL sampled volume, 10 µL assay volume (96-well plates)
Screening Detection Method
Flow cytometry
Event Rate Detection
10,000/sec
Sensitivity Range
6+ decades
Gain and Voltage Settings
Automatic
Laser Excitation
Solid state lasers: blue (488 nm) and red (633 nm)
Multicolor Detection
4 simultaneous color channels using PMTs
Label-free Object Detection
2 light scatter channels for size granularity
Sensitivity
7 decade dynamic range using fixed optics
Minimum Plate Processing Speed
3 minutes for one 96-well plate, 12 minutes for one 384-well plate
SOFTWARE
Enterprise Data Software
Standard
Software Features
Standard: normalization, dynamic linked gating, interactive heat maps, 1D and 2D plot settings, custom PDF data report, well scan, unified work space, custom metrics, automated cleaning, one data file per plate, templates, advanced screening software. File size per 96-well plate: 70-100 MB. File export: FCS, CSV and ForeCyt plate formats.
Computer Requirements
Windows 7, 64-bit
SAFETY
CE Compliance
Yes