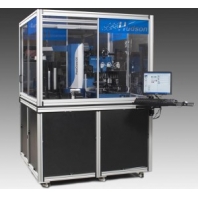 RapidPick™ Fully Automated High-Throughput Colony Picker
Hudson's  RapidPick™  Colony Picking Systems are the only fully automated high-throughput colony picking workcells, that deliver performance and precision unparalleled in the Life Science industry.  In addition to allowing researchers to automate the selection and growth of cells grown on a colony plate, it will also retain a record and image of the specific colony and which culture plate/well it inoculated. It provides the users an indispensable, unbroken data path from original colony to final result, eg. tracking a clone to a specific expressed protein.
The RapidPick series of multi-pin colony picking systems include the RapidPick Basic, RapidPickComplete, RapidPick Lite and RapidPick ACIS.  They offer the highest-throughput automated colony-picking solutions available today.
The RapidPick SP400 is a single-pin pin for users who need RapidPick accuracy, but only require modest throughput.
Hudson's RapidPick™ systems are designed to pick from SBS-compatible omni-trays, segmented colony plates, 24-well, 96-well and 384-well plates and petri dishes.  They will inoculate SBS-compatible omni-trays, 24-well, 96-well and 384-well deepwell and standard height plates.
The RapidPick Complete, RapidPick Lite and RapidPick ACIS are fully-integrated solutions for colony picking, and include Hudson's PlateCrane robot arm and stackers.   The PlateCrane can be configured with 2 to 10 stacks.  The RapidPick Complete also includes a full enclosure and an integrated adhesive plate sealer and media dispenser, to assure protection from outside contaminants.
All RapidPick operations are controlled from Hudson's powerful SoftLinx™ easy-to-use scheduling software.
RapidPicks are simple yet robust  picking systems that combine easy operation with high speed and durability.  Available in 5 platforms:
Basic: Automated, multi-pin colony picker with manually loaded source and destination plates.
Lite: Includes the Basic module, plus adds Hudson's PlateCrane robot arm plus 5 plate stacks for  automated source and destination plate loading.
Complete: Adds robotic media dispensing and adhesive plate sealer, in a stand alone enclosure with optional UV and HEPA filtration.
ASIC: Adds Liconic automated shaking incubator to the RapidPick Lite or Complete.
SP400: Single-pin version, with the same user features and accuracy as all RapidPick platforms.
Applications
Movies
Features
Specifications
Literature
This workcell is unique in its completely integrated operation which allows researchers working in Colony Picking, Re-Arraying, and Replication the ability to feed source and destination plates in a compact workcell environment.
In this video, the rapid pick is selecting appropriate colonies and inoculating cultures in deep-well plates. The PlateCrane will then take the culture plate to be sealed for incubation.
Speed: >2400 colonies/hr
Calibration: Each tip is calibrated in a process that takes 5 minutes. This is a key advantage over systems that rely on calibration from 1 pin; any deviation in the calibration pin will cause other systems to miss colonies.
Image Processing: Only 1 image is used to identify all of the colonies on a plate. As you know, other pickers use multiple images that get reconstructed, and reconstructed images require an overlap parameter that throws away about 10% of your colonies.
Selection Efficiency: It is an industry standard that only ~72% of all human pickable colonies can be selected and picked by our competitors. The RapidPick™ collects ~90%.
Tip Cleaning: Tips are cleaned with water from a large carboy followed by sterilization in a 300C oven. This means no EtOH bath to evaporate causing contamination
Automated Media Filling: Eliminates the need to dispense media at a separate workstation. The Microx10′s features make it a perfect match for this application.
Including:
AutoPrime: Primes the system if there was not a dispense during the user determined time interval. This prevents media from drying on the tip ends.
NO Check Valves: There is only 1 moving part in the micro10 fluid path, a ceramic piston. Check valves do fail and cause mis-dispensing.
Intelligent Fill: The RapidPick knows the best time to fill the next destination plate, which allows parallel processing and eliminates waiting for fresh media plates.
Sealing: Inoculated culture plates are sealed and put to an output stack or directly into an optional incubator.
Sample Tracking: All sample movements are tracked by the system using the following techniques.
Source Destination: A data file is generated showing all of the colony parameters associated with a sample that is transferred from a colony tray to a destination plate.  A photo of the exact colony collected can also be archived and associated with the destination well.
Available Module:
Incubation: Several Automated Incubators are compatible with the RapidPick, with an integrated incubator; colonies trays can be monitored for optimum colony size prior to the start of the picking process. Additionally, when optimum conditions are met, the incubator can be cooled and humidity controlled to prevent overgrowth and condensation.
RapidPick Multi-Pin Colony Picking Systems consist of the CP-7200 colony-picking instrument, the PlateCrane EX (except Basic model) with up to 10 stacks, and software development by Hudson Robotics to control the system.  The systems have the following specifications:
Software for colony picking, cherry picking, re-arraying and plate replication is standard.
Supports NUNC Omnitrays and Petri dishes as source plates for colony-picking.
Supports most SBS format shallow and deep well plates for the destination or in use with plate replication; 24 wells, 96, 384 and 1536 formats.
Comes standard with 2 barcode readers, 1 for the source plates and 1 for the destination plates.
Holds 1 source plate and 1 destination plate at a time, with option for 2 destination plates.
Has input capacity of 72 deep-well culture growth plates.
Includes barcode tracking of both colony and culture plate/well
Includes media dispenser for fresh growth media in every plate (Complete and ACISmodels only, optional on Lite).
Integrated gas-permeable seal applicator to insure freedom from contamination (Completeand ACIS models only, optional on Lite).
Available fully-integrated operation with products like Liconic's STX 40 robotic incubator which provides complete automation of the entire culture outgrowth process.
Uses 20 tungsten pins on spring loaded linear slides attached to a rotating turret for picking.
Uses LED light box with the intensity of the lights controlled in software.
LED lights can be changed to different colors if desired.
Camera takes an image of the entire plate in a single image.  No image cropping or building is required.
User creates parameter files for identifying good colonies.  There is no limit to the number of parameter files that can be created.  Good colonies are determined by size, shape, contrast to background and closeness to other colonies.
User can manually edit the plate to be picked if desired.  Colonies can be selected or deselected with the click of the mouse.
4 pins are actuated at the same time, picking pin, inoculation pin, wash station, sterilization.  This action takes under 1 second.  After the pins are released, the rotor moves by 1 position.
Typical picking speed is 1 pick every 1-1.5 seconds; ~40 a minute, ~2400+ per hour.
Picking pin can pick through agar and hits bottom of plate with no damage to pin, linear slide or plate.
Inoculation pin can be set to "wiggle or dither" in destination well from 1-10 shakes.  This improves the inoculation efficiency to 98%+.
Wash station is a vacuum wash to remove loose debris on the pin.  After leaving wash station, pin travels through a brush to remove anything remaining.
Pins are sterilized with direct heat.  The pins enter a heater coil or furnace at 600F for under 1 second.  The tungsten pins heats through and all samples on the pins are destroyed.  Tungsten allows pin to cool before being used for picking.